BA, Georgia State University
PhD, Adelphi University
Trauma and trauma-informed care
Child and adolescent therapy
Cognitive Behavioral Therapy (CBT)
Immigration and forced migration
Youth violence prevention
Community engagement
Cross-cultural research
Dr. Lisseth Rojas-Flores is Associate Professor of Clinical Psychology in the department of Doctoral Psychology at Fuller Theological Seminary. Dr. Rojas-Flores' research centers on immigrant children's well-being with a particular focus on how trauma, community violence, and socio-structural adversity impacts the child and family unit. She recently received funding from the Foundation for Child Development to study the impact of immigration enforcement on Latino children's well-being in the context of their families, schools, and communities.
In an international context, she conducts collaborative research to examine the impact of community violence and trauma on adolescents, parents, and teachers living in El Salvador.  In Colombia, as part of a multidisciplinary research team, she examines the challenges caused by forced migration and works to mobilize local religious communities to support people in situations of internal displacement (IDPs) recover and flourish.
Dr. Rojas-Flores's teaching, research, and scholarship are deeply informed by culture, context, developmental science, and research-practice partnerships with legal, advocacy, and faith-based organizations. She is also interested in examining how clinical and community-based interventions mitigate the impact of trauma and cumulative adversity.  As a bilingual/bicultural licensed clinical psychologist, she takes a special interest in addressing the interrelationships between family, mental health, faith, and social justice.
Dr. Rojas-Flores is a member of several organizations, including the International Society for Traumatic Stress Studies (ISTSS), Society for Research on Child Development (SRCD), and the Society for Community Research and Action (SCRA).
Download Dr. Rojas-Flores' CV here.
Discover More on Dr. Rojas-Flores Research & Resources
[Toolkit] Self-care tips and resources to support DACA and undocumented individuals' mental health journey.
[Webinar] Dr. Rojas-Flores discusses best mentoring practices with scholars, mentors, and DACA recipients.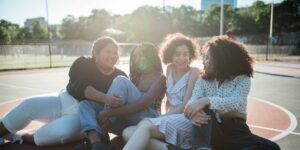 [Guide] Learn how you can mentor DACA and undocumented youth in the current socio-political climate.
Dr. Rojas-Flores and Thrive student, Jennifer Vaughn report on the potential health crisis among childrenLearn more...
Dr. Rojas et al. look at PTSD symptoms and distress in Latino citizen children followingLearn more...
Dr. Rojas et al. examine the exposure of community violence on parenting practices and parent-childLearn more...
"The Latino community is rising and we need more role models. In particular, we need to see powerful women who can have a voice, who can have healthy marriages, who can have healthy kids who are proud and who are thriving. It's extremely important."
Dr. Lisseth Rojas-Flores