A Conversation Guide About Patience
By the Thrive Center
---
Guide Summary
How can youth leaders and practitioners educate youth on the importance of patience in society, faith traditions, and each other?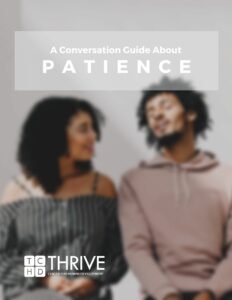 Adapted from our 5-video series on patience, A Conversation Guide About Patience seeks to facilitate these discussions between youth and adults through thoughtful reflection. This free guide provides insight on the meaning and role of patience in different contexts, the benefits it can bring to our lives and relationships, how to strengthen patience through self-care practices, and how linking patience to our purpose can lead to thriving.
---
Learn more about patience by watching our 5-video series here.
Receive the latest news and updates by subscribing to our mailing list below.