WAIT: A Training Guide to Understanding and Developing Patience
By the Thrive Center
---
Guide Summary
Can be patience be taught in a classroom, sports field, or at home? How can we help young people practice patience on a daily basis?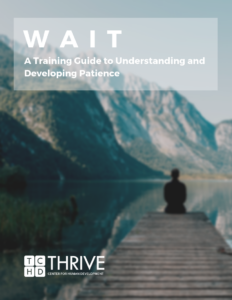 Based on research conducted by former Thrive Center faculty, Drs. Ben Houltberg and Sarah Schnitker, WAIT: A Training Guide to Understanding and Developing Patience provides a four-step model that will teach young people how to think through and apply patience through practical exercises. Whether you're a youth practitioner, mentor, coach, or parent, this training guide will help you foster patience in youth across a variety of situations.
---
Learn more about patience by watching our 5-video series here.
Receive the latest news and updates by subscribing to our mailing list below.