Calling
Nov 6, 2018 | Benjamin Houltberg | Spiritual Formation, Thrive Thoughts, Video
Summary
Developmental psychologist, Benjamin Houltberg traces the intersections of research and ministry in his work, as well as his desire to integrate his research with understanding people's pain and representing God's love with them. He was interviewed by Evelyn and Frank Freed Professor of Marital and Family Therapy at Fuller Theological Seminary, Terry Hargrave.
---
Author's Note
This presentation was originally published on FULLER Studio.
---
About the Author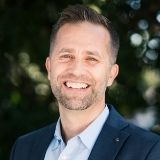 Benjamin Houltberg
Benjamin Houltberg was the former associate professor of human development at the Thrive Center. As a developmental scientist, his research centers on relational factors that impact emotional health within high-stress environments. Much of his work is on the role of identity development and character virtues in sport as they relate to emotional health and athletic performance. He currently serves as the president and CEO of the Search Institute.
Subscribe to our Newsletter