All Bets are Off: Rethinking the Basics Amid COVID-19
In this new existence with COVID-19, we have an opportunity to get creative about everything, big and small. Although continued disruption and stress to make ends meet can be exhausting and disorienting, we can begin to tame the torrent by naming and rethinking our basic needs, as well as keeping our eyes on a greater purpose.
In a previous post, I mentioned how a thriving mindset can direct and motivate us even amidst instability. Someone with a thriving mindset sees all things as opportunities—for a better way forward—whether that involves growth, rest, innovation, connection, or meaning. Today's reality is that so much of what we took for granted in our daily lives is now up for grabs. This fall, as you recalibrate and begin to rethink your and your family's basic structure and routines, consider it as an opportunity to define your short and long-term goals. When we identify all the necessary goals in our lives, we are able to find a means to a greater end.
This season, all bets are off on how we manage and achieve our household necessities. Use this as a great opportunity to think outside the box on how you can accomplish the basics. Here are some things to consider as you face these issues.
1. Distinguish what is necessary verses what would be nice.
Determine what you and your roommates or family members need to both survive and thrive. What are the things that will help you be grounded, connected, and directed[1] as a whole and individually even through disruption?
2. Be flexible.
As much as you try to make a plan, keep in mind that the only constant thing at this moment is change. It's important to recognize that your solutions, routines, and systems may change if someone in your household gets sick, or if suddenly kids go to school and you have to go back to work. Also note that things just might not work out the way you hoped, and that's okay.
3. Think outside the box.
Remember, all bets are off. We have permission to be innovative and to find new solutions. For example, how can you use technology[2] to help you and others achieve goals and thrive? Given Zoom, be creative when setting up meetings with family members, friends, coworkers, and your community.
4. Don't do it alone.
You don't need to be Wonder Woman or Superman. This is the time to rally your team. Collaborate on identifying household goals, be clear on expectations, convey your values and appreciation for others, build trust, communicate often, and instill confidence in others.
5. Be strength-based.
Allow the members of your household to volunteer and contribute to your home based on their strengths. If someone is the better cook in the family, allow them to be the chef. If someone else is a tech wiz, allow them to be in charge of all the technology in the house.
6. K.I.S.S.
As the old adage says, "Keep it simple, stupid." Don't over complicate things. Identify small goals, and take it one day at a time.
7. Keep perspective.
Although the days seem to drag on, remember there will be other seasons in the scope of a lifetime. Remind yourself that there is life and meaning beyond the walls of your home or the square of your screen. Stay connected to your true north.
8. Be purposeful.
Covering the basics is a means to a greater end. When these feel overwhelming, remind yourself that they are for a bigger purpose.
Given that COVID-19 has reordered so much of our lives, take some time to think how these guidelines might apply to you and those around you. Consider how they might be relevant to the needs and desires for shelter, school, and work, as well as your physical, emotional, relational, and spiritual well-being. Create small goals and remain flexible. Put on a thriving mindset—see challenges as opportunities. Think of yourself as an agile, thriving ninja—one who can stay grounded, connected, and directed almost whenever and wherever.
---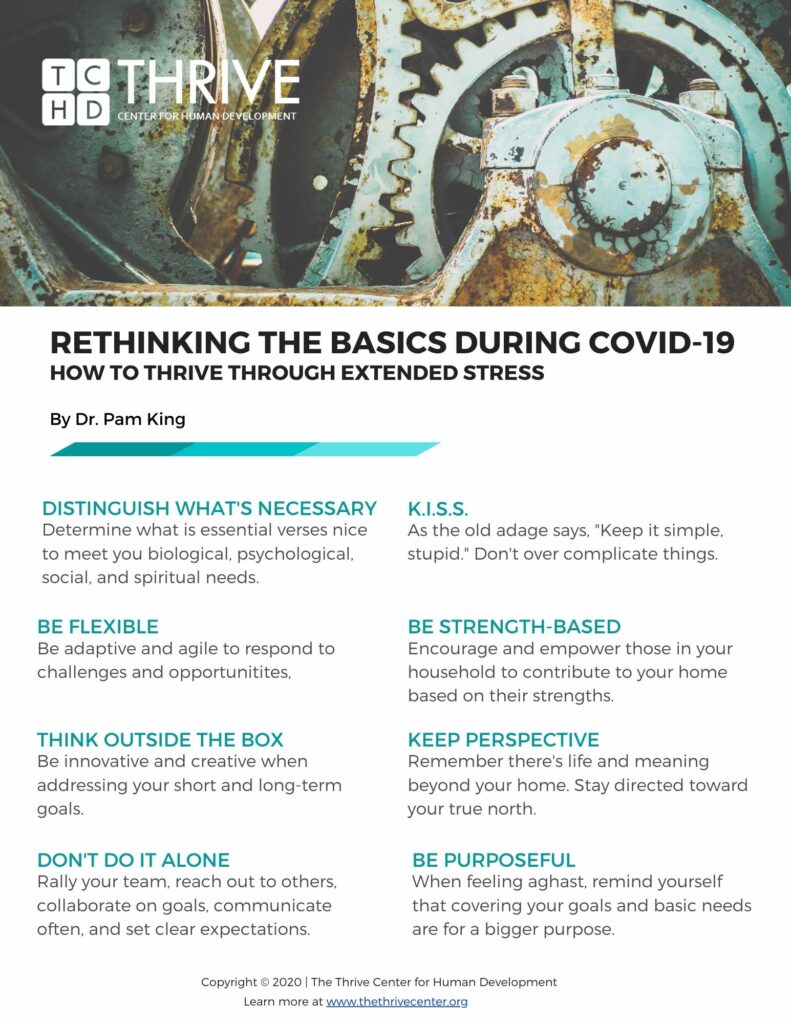 Your FREE Download
Print or save these tips on your computer. You can stick them on your fridge or home office to serve as a daily reminder.
---
Endnotes
[1] Read my post to learn how you can be ground, directed, and connected: https://thethrivecenter.org/staying-grounded-connected-directed/.
[2] Learn how technology can lead to thriving: https://thethrivecenter.org/portfolio-item/technology-and-thriving/.
Subscribe to Our Newsletter