Life Off Autopilot: The Power of Purpose
This is Part 1 of a 2-part series.
"The meaning of life is discovering our gift, the purpose of life is giving it away."
Pablo Picasso
Purpose is a core facet of spiritual health.
Healthy spirituality provides more than a sense of connection, feelings of awe, or even an understanding of what is meaningful; spiritual health involves actionable responses, and it informs, directs, and motivates how we live our lives. Healthy spirituality leads to an understanding of purpose and asks us to consider what pursuits, relationships, and values make for a meaningful life.
This summer as I've spoken with leaders and neighbors, I hear people say that we are experiencing a crisis around meaning. Young and old feel adrift. People are less rooted in faith and their belief communities – conventional sources of grounding, connecting, and directing. People seem to lack a true north. Isolation and loneliness exacerbate feelings of being untethered and aimless. In response to this crisis, I suggest we need to explore purpose. Purpose guides who we are becoming, and a purposeful journey tethers us to our communities and the work of our lives.
The concept of purpose is probably not new to you, since it has captured the attention of the church, the academy, businesses, and philanthropies. The idea of living purposefully informs my work, and how I live my life. Years ago, I had the opportunity to do a postdoctoral fellowship with William Damon at Stanford University. He is a pioneer in the concept and research on purpose, and I consider him both a mentor and a friend. In his best selling book, The Path to Purpose, Bill defines purpose as an enduring and achievable goal that is meaningful to the individual and contributes to the world beyond the life of the individual. There are three key facets to this definition:
1) It involves an actionable and enduring goal–something we can actually do and aim to accomplish.
2) It's personally meaningful and aligned to one's strengths, skills, and natural proclivities (in other words, this is living our own dreams, not the dreams of our parents or our partners).
3) It has a beyond-the-self orientation–it contributes beyond our own lives. It's bigger than making money or chasing happiness.
Having a purpose helps us contribute to our world and live into our deepest longings. Sometimes people talk about general purposes, like glorifying God. I think of glorifying God as a purpose with a capital, "P," but it's too general to be an actionable purpose, since there are an infinite amount of ways we can glorify God. The kind of purpose aligned with spiritual health is actionable and reflects one's deepest passions and greatest strengths. If glorifying God is a sense of general purpose for you, a follow up probe may be "what are your unique gifts and strengths through which you may serve God and others?"
While actionable purpose is important, it has to be held in balance with our call to be in relationship and community. A healthy pursuit of purpose helps us live virtuously and into our values; and upholds the need to balance our goals with our roles and also our "souls." Sacrificing our personal relationships for the sake of contributing to the greater good is not aligned with spiritual health. Too often, pursuing our work for the sake of "the family" leads income earners to distance themselves from those they love most. While healthy spirituality upholds work, values, and virtuous behavior, it also asks us to balance our work with compassion, sabbath, and mercy. From the Christian perspective, we follow the example of the person of Jesus Christ.
Purpose is a multifaceted concept involving personal, relational, spiritual, and vocational aspirations. We find a sweet spot when who we are and what we find meaningful intersect. The more we understand ourselves and what deeply matters to us, the more we can pattern our lives around those yearnings. Much of our wellbeing and joy is tied to how closely our actual lives are aligned with our ideals. Consequently, becoming clear about what you love and value is important to living out your purpose.
Joy and Purpose
There are times when we need to pause and reflect on where we have felt the greatest sources of joy in our lives. When have you felt invigorated and when have you felt delight? Conversely, when have you felt drained or experienced the drudgery of work? Exploring your sources of joy and also the things that make you upset or angry provides signals into what is meaningful and purposeful. I believe that when our work aligns with God's purposes for us, we experience joy. Joy is a chief end of the Christian life. I find The Prayer of Examen to be a useful spiritual practice to guide me toward joy, and also toward my deepest desires and awareness of God's calling. Additionally, regular journaling, other forms of prayer, meditation, and sharing can serve to illuminate a sense of purpose. Joy is essential to finding purpose because it alerts us to when our actions are aligned with what matters to us and where we might contribute. Click on the button below to download an exercise exploring your joys. These experiences may unveil useful information to you about who you are and how God wants to use you.
I find that joy is also a useful assessment tool. Examine where and when you feel joyful or even if you feel joyful in your current endeavors. I'm not talking about moment by moment happiness. Joy is a more profound feeling. Do you experience joy in your relationships and in the work that you do? Joy directs us toward connection and contribution. Joy connects us toward meaning and love. A spiritually healthy life is a purposeful life, full of rich experiences of true joy. Ask yourself if you are on the right track. Although Picasso wasn't known for his spiritual health, he was purposeful, and he said it well when he wrote: "The meaning of life is discovering our gift, the purpose of life is giving it away."
May you find joy in discovering and giving away your gifts. Look for Part 2 of this post where I discuss the realities and complexities of finding purpose.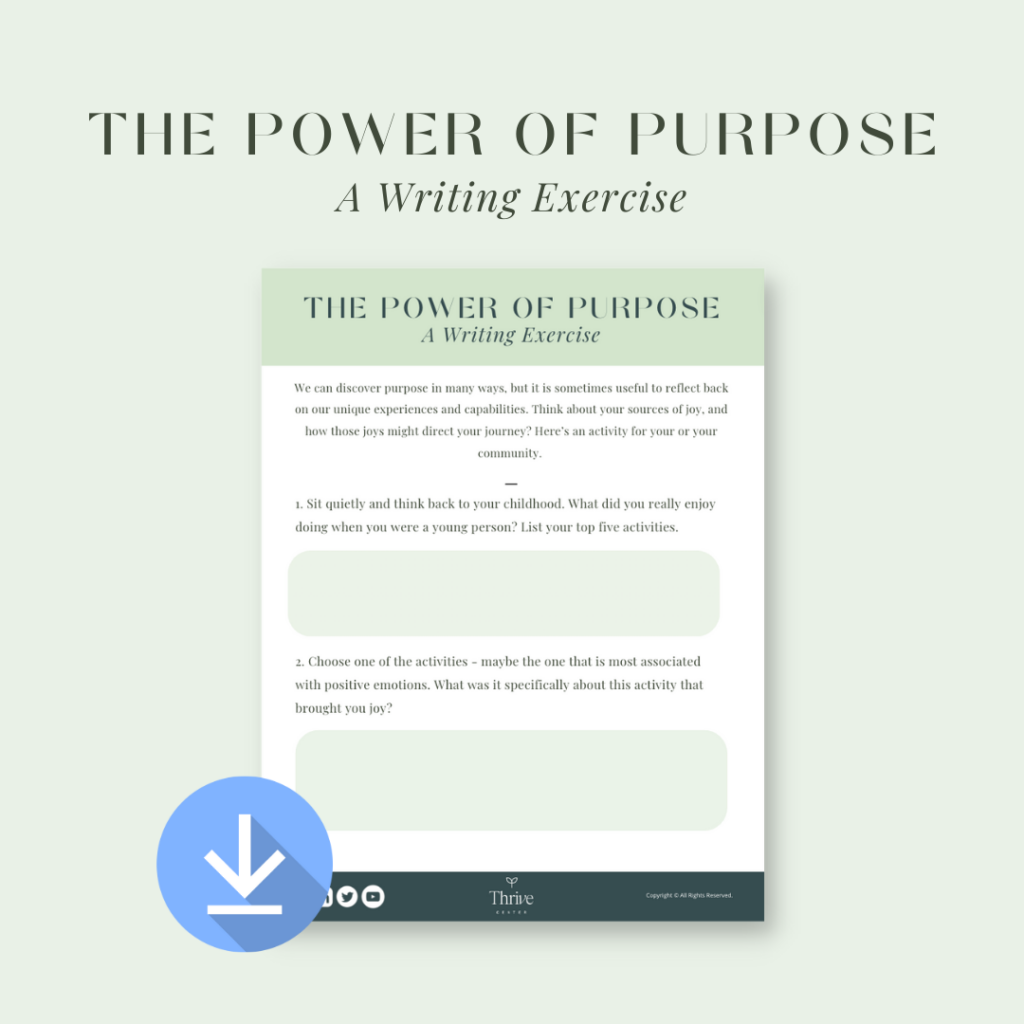 For further resources:
Damon, W. (2008). Path to purpose: How young people find their calling in life. New York, NY: Free Press.
Tod Bolsinger, "Formed, Not Found," Fuller Studio (2014): https://fullerstudio.fuller.edu/formed-not-found/
Henri J. M. Nouwen, Discernment: Reading the Signs of Daily Life (New York: HarperOne, 2013).
King, "Joy Distinguished," 33–39 and King and Defoy, "Joy as a Virtue," 1–24.
Herbert Alphonso, S.J., Discovering Your Personal Vocation: The Search for Meaning through the Spiritual Exercises (Maywah, NJ: Paulist, 2001)
"Prayer of Examen," Fuller Studio (2019): https://fullerstudio.fuller.edu/prayer-of-examen/
King, P. E. (2021). Vocation as becoming: Telos, thriving and joy. (p. 185) In Seminary Student Vocation Formation (eds. David J. Downs, Tina Houston-Armstrong, and Amos Yong). Vocation, Formation, and Theological Education: Interdisciplinary Perspectives from Fuller Theological Seminary. Claremont, CA: Claremont Press.
Subscribe to Our Newsletter