Quaranteens: Practice Makes Patience
Photo by: RODNAE Productions on Pexel
---
April showers bring May flowers. What do May flowers bring? Extended shelter in place, and the need for patience. With lengthening stay-at-home orders and uncertainties of when schools and businesses will reopen in most of the U.S., these unpredictable times have required us to be patient—whether we like it or not. In an era where life is on demand, and often in our command, patience has become an under-developed character strength that is often neglected. Patience is an open-hearted acceptance of difficult, delayed and frustrating situations, like COVID-19.
COVID-19 is a situation beyond our control, and will require patience to navigate well—especially for teenagers. Having patience is critical during this time, given that we are being asked to wait in our homes for an unforeseeable future. Generally, teenagers struggle with practicing patience, because of the state of their developing brains—which naturally leads to their challenges with impulse control and emotion regulation.
Take heart! Despite being a challenge, research shows that patience can be improved and strengthened with practice and effort! Thus, teens (and their parents) can learn how to practice the virtue of patience in order to thrive during these stressful times. These exercises—developed using research on patience conducted by psychologists, Sarah Schnitker and Benjamin Houltberg—will help parents and teens to understand the importance of practicing patience, and learn ways to manage and cope with their emotions during this difficult time.
Why Patience?
It's hard to develop a new skill or habit, especially if you do not have a strong reason to put in the effort. So, let's start by taking the time to reflect on why patience is important. This will help us to appreciate it more, and have a stronger willingness to apply it to our daily lives. In order to effectively practice patience during this time, we need to continuously remind ourselves, and our teens, why we need to be patient during COVID-19—to save lives!
Ask yourself and your teen:
Why should we be patient during COVID-19? To save and protect others.
How will being patient during COVID-19 benefit me and those around me? To protect myself and loved ones.
Practicing Patience
Being aware of your feelings is critical for practicing patience. When we are aware of how we are feeling, we can identify the times when we are being patient or impatient. Start by thinking about your experience during COVID-19, and being attentive to your feelings.
Ask yourself:
What feelings does COVID-19 and the stay-at-home order evoke for me? I feel disappointed and frustrated.
How do these feelings affect me? It's hard for me to find anything positive from this experience.
Coping Towards Patience
Once we are aware of our feelings, the next step is to learn how to regulate our emotions to help us to better practice patience.
We are in a unique situation with COVID-19 and the stay-at-home order. Our new reality will require us to adapt and be flexible with our emotion regulation and coping strategies. Reflect on your experience and emotions during this time, and keep an open mind as you identify ways to manage your emotions and responses.
Think about some of the ways you coped with your emotions before the stay-at-home order (e.g. playing basketball, grabbing coffee with friends), and think of new ways to cope that can be adapted to being at home (e.g. learning a new hobby, crafting, baking).
Ask yourself:
What are some things that I did to cope with my feelings before COVID-19? Grabbing coffee with friends.
How can I use those strategies and adapt them to COVID-19? Facetime my friends while brewing a cup of coffee.
Connecting Patience to Your Purpose
Lastly, our research here at Thrive Center shows that connecting our experience to a greater purpose is fundamental to practicing patience. COVID-19 is a trying time for all of us as a society. By connecting our experience to a greater purpose, it helps to remind us that we are not alone in our experiences, and that staying at home is helping the greater good. Being in touch with our purpose helps us to elevate our emotions, see beyond any immediate challenges, and persevere.
Reflect on these questions:
What is the purpose of the stay at home order? To save lives and protect others.
How does connecting to this purpose now impact the way I view this situation? I am staying home for a reason, I am saving lives and protecting others.
After applying this last step, how will it help me develop patience moving forward?
---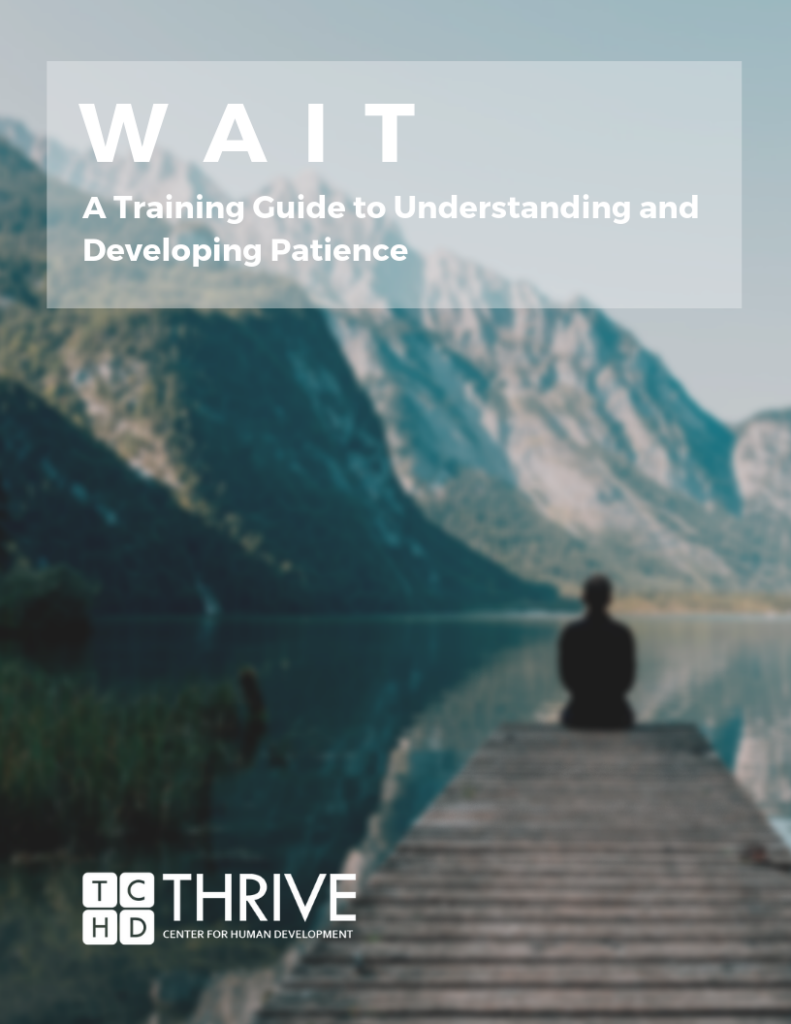 Free Download!
To help you get started, we offer this 4-step model as a free downloadable guide. Learn more about patience through our 5-video series.
Subscribe to Our Newsletter